Patchouli, Sri Lanka - Organic
Details
Botanical Name: Pogostemon cablin
Origin: Sri Lanka
Process: Steam Distilled Essential Oil
Plant Part: Leaves
Cultivation: Cultivated, Certified Organic (NOP, Ecocert)
Use: Aromatherapy / Natural Perfumery
Note: Base Note (good fixative)
Aroma: Sweet, earthy, with subtle balsamic notes. Medium depth; between our Patchouli – Dark and Patchouli – Light.
Overview
Organic Patchouli Essential Oil
Our certified Organic (NOP) Patchouli from Sri Lanka is a high quality Patchouli oil of medium odor depth. It is deeper in aroma than our Patchouli - Light yet not as deep as our Patchouli - Dark.
Patchouli is a sometimes misunderstood oil that has received an undeserved reputation in recent decades. Perhaps it was overused by a certain rebellious subculture, or perhaps its strong, earthy aroma is just not appreciated by some in our current culture in which cleanliness may be associated with the fragrances of cleaning products.
A truly fine Patchouli oil has a wonderful fragrance that may not be recognized by many who claim that they do not like its scent. It is best appreciated when smelled in diluted form, on a scent strip, or when combined with other essential oils, especially florals, rather than at full strength from the bottle. A good quality Patchouli oil improves with age, and we have five very fine Patchouli oils to choose from.
---
Aromatic Profile: Earthy, musky, dry and slightly spicy-warm. Deep and tenacious, very long lasting.
---
Appearance: Light amber-colored, somewhat viscous liquid.
---
Use: In natural perfumery, skin and body care, insect repellant, aphrodisiac, promotes grounding/decisive qualities.
---
Blending Suggestions: Add drop by drop to add a full-bodied base note to your blends.
---
Blends Well With: Amber, Bergamot, Cassie, Cedarwood, Champaca CO2, Cinnamon, Clary Sage, Clove, Cocoa Absolute, Geranium, Jasmine Grandiflorum, Labdanum, Lavender, Myrrh, Neroli, Oakmoss, Rose, Sandalwood, Spikenard, Vetiver, Ylang Ylang. We also recommend blending the different types of patchoulis we carry to create a unique, complex patchouli accord.
---
Safety Considerations: Dilute before using. A patch test should be performed before use for those with sensitive skin.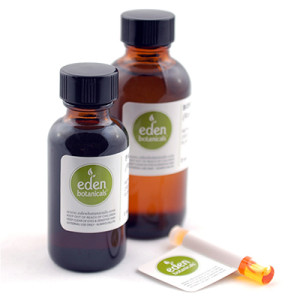 Customer Reviews for Patchouli, Sri Lanka - Organic
A wonderful organic Patchouli! Review by

Michele L.

Eden's organic Patchouli from Sri Lanka is a delicious warm, woody and deep patchouli. I'm personally interested in sustainable and organic products and Eden has a fine product here. If you like patchouli, you'll love this offering. I bought a big bottle to enjoy its mellowing over time. (Posted on 2/25/13)

Patch Sri Lanka Org Review by

Melissa

Mmmmm - love this patch. I used it in a perfume I formulated last year and my logbook tells me I chose this patch over the other 3 I own because of its softness. I just resniffed the four patchoulis and again found this one to be softer and deeper. To me the sweet spicy note is sort of like rootbeer. It just seems to have more layers to it than the other patchoulis. (Posted on 2/18/13)