Amyris
Details
Botanical Name: Amyris balsamifera
Origin: Haiti
Process: Steam Distilled Essential Oil
Plant Part: Wood
Cultivation: Wild Grown
Use: Aromatherapy / Natural Perfumery
Note: Base note
Perfumery Uses: Sandalwood substitute
Aroma: Gentle, woody, with a slight vanilla-like undertone.
Overview
Amyris Essential Oil
Amyris essential oil is distilled from the wood of the tropical evergreen Amyris tree found throughout the world. It often referred to as West Indian Sandalwood, though does not possess the same depth and charater as true Sandalwood. Amyris offers a sweet-woody, balsamic aroma with good fixative value, and is often used as a substitute for Sandalwood when a less expensive alternative is required.
Amyris relaxes and calms the mind, helping to alleviate stress and anxiety. It is also said uplift the mood and have an aphrodisiac-like effect when used in small amounts in a blend.
---
USE: Antiseptic, sedative, improves circulation. Very calming to the skin and the mind.
---
BLENDS WELL WITH: Geranium, Lavandin, Lavender, Nagarmotha, Oakmoss, Cedarwood, Patchouli, Sandalwood, Vetiver, Ylang Ylang.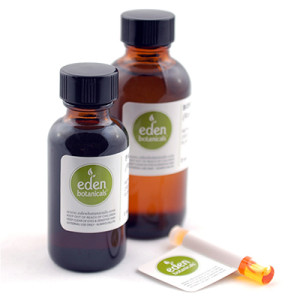 Customer Reviews for Amyris
This oil from batch 70-7-4 smells like whisky to me. Now I've never smelled Amyris before so I didn't know what to expect, except from the description and reviews. I do know what various Sandalwoods smells like and this smells nothing like it. It does have a woody undertone, but no sweetness. I can see how it might stretch a Sandalwood oil if added at about 20% or less. Maybe it could be used well in a blend where that Scotch or Rye scent is desired. Although I don't personally enjoy them, I know of a few popular brand name perfumes that use alcohol overtly as a note in their fragrance, and they sell very well. (Posted on 5/22/14)
I have wild amyris from another company that I used before I descovered eden botanicals. It smells like a campfire...not exactly a sub for sandalwood. On a long shot hunch i decided to try EB amyris, dont know why.. BOY AM I GLAD I DID, IT COULD REALLY PASS FOR SANDALWOOD!! I put sandalwood on one wrist and amyris on the other. At first the sandalwood was smooth and sweet and the amyris was smoky..but in a few minutes i couldn't tell them apart!!! So happy!! (Posted on 6/6/13)
I have not tried Amyris from any other company, so I cannot say how this compares. However, I do find that it is an excellent smelling oil that offers great fixative properties. It does have a scent somewhat reminiscent of sandalwood, but I'd say that the aroma is deeper and more earthy. It also blends well with practically every other scent I've tried it in. The other wonderful thing about this oil is that the price is excellent. Highly recommended! (Posted on 2/19/13)
This essence is offered as an alternative to Sandalwood for its availability and pricing as well as its similar profile. I find it to be a useful addition to my essence collection especially for when I need a lighter, more spicy and less sickly sweet scent, in contrast to most sandalwood oils.

Amyris lends a constant woody spice scent to my blends and allows me to include a quality base note without over-powering a blend with the more heavy qualities of Sandalwood. Amyris is on the lighter, more 'airy' end of the spectrum as far as base notes go. The price and environmental concerns that Amyris offers cannot be beat either.

One downside that I have found is that this oil is not as long-lasting as other base notes. It doesn't have the staying power of a rich Sandalwood or Agarwood, but this can be used to one's advantage if one knows what they are doing. (Posted on 2/14/13)
Deep and rich with a faint smokiness. This is an excellent substitute for the far more expensive sandalwood varieties on the market and blends well with a number of other essences. (Posted on 7/28/12)