Patchouli, Light
Details
Botanical Name: Pogostemon cablin
Origin: Indonesia
Process: Steam distilled
Plant Part: Leaves
Use: Aromatherapy / Natural Perfumery
Note in perfumery: Base note
Aroma: Similar to our Patchouli, Dark, though a little lighter and clearer. Iron-free, and distilled in stainless steel vessels.
Overview
Patchouli - Light Essential Oil
Our Patchouli - Iron Free essential oil is distilled in stainless steel vessels. It is similar to our Dark Patchouli oil, but some people prefer the clear, lighter notes of this Patchouli.
---
Aromatic Profile: Earthy, musky, dry and slightly spicy-warm. Deep and tenacious, very long lasting.  The iron-free patchouli smells slightly cleaner, drier and lighter than our Dark Patchouli, but not as light and fresh as our Patchouli CO2.
---
Primary Uses: Aromatherapy, natural perfumery, body care, incense and as a single scent.
---
Uses in Natural Perfumery: A tenacious and powerful base note that acts as a fixative and transforms all other notes. Adds an earthy and warm tone and deepens the other notes, particularly florals. Used often in Chypre and Oriental perfumes as well as in dry woody perfumes and in masculine citrus cologne type fragrances and toiletries. Patchouli improves tremendously with age. To accelerate the aging process, you may choose to leave the lid unscrewed and let it rest in the bottle for several weeks. This practice is recommended only if you want to make your patchouli notes sweeter and warmer.
---
Uses in Aromatherapy: Antidepressant, Anti-Inflammatory, Anti-Microbial, Antiseptic, Hair Care, Skin Care, Controls appetite, assists in skin conditions (such as Dermatitis, Dandruff, Eczema, Impetigo, Fungal Infections, Athlete's Foot, and more).
---
Blending Suggestions: Sandalwood, Myrrh, Vetiver, Spikenard, Rose, Jasmine Grandiflorum, Ylang Ylang, Champaca CO2, Amber, Oakmoss, Labdanum, Geranium, Opoponax, Clary Sage, Lavender, Cedarwood, Cloves, Cinnamon, Cassia, Cocoa Absolute. We also recommend blending the different types of patchoulis we carry to create a unique, complex patchouli accord.
---
Safety Considerations: Non-toxic, non-irritant, non-sensitizing. One of the few essential oils that can be used neat on the skin - but you should patch test first.
---
For more information on Patchouli, click here.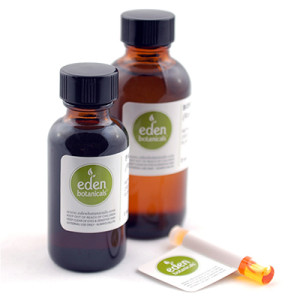 Customer Reviews for Patchouli, Light
The smell of Patchouli has bitter and rich aroma, just like Chinese medicine. I will recommend Patchouli mixed with Cedarwood, Clary Sage or Sandalwood, it's good for healing nervous disorders, helping with sores and acne also. (Posted on 9/17/14)
Sweet, rich, and earthy, this Patchouli is phenomenal. I own every Patchouli oil offered by Eden, and this and the Dark Patchouli are my favorites. I do not detect a huge difference between the Dark and the Light, other than the color. The dark is slightly richer, a tinge spicier. They both remain on the perfume blotter for about the same amount of time: VERY LONG LASTING.

(Posted on 9/2/14)
LOVE this patchouli!! Each one I have tried from Eden was great, all so similar, yet so different! Even patchouli haters may like this one! (Posted on 9/2/14)
This patchouli has a warm, rich and earthy aroma. I also pick up a fresh fruity undertone, but this might just be me. I used it as a perfume by blending it with other oils in a carrier oil. I could definitely pick out the patchouli in the fragrance and found it to be incredibly deep and grounding. To my surprise, the smell was also very long lasting on my skin. I would definitely order again for use in my blends. (Posted on 9/1/14)
Patchouli brings back memories of my youth and the 70's. I have always loved the fragrance of Patchouli. A sense of freedom comes over me. (Posted on 8/30/14)