Patchouli, Dark
Details
Botanical Name: Pogostemon cablin
Origin: Indonesia
Process: Steam Distilled Essential Oil
Plant Part: Leaves
Cultivation: Cultivated
Use: Aromatherapy / Natural Perfumery
Note: Base Note (good fixative)
Aroma: Rich, dark, earthy and well-aged.
Overview
Patchouli - Dark Essential Oil
Patchouli is a sometimes misunderstood oil that has received an undeserved reputation in recent decades. Perhaps it was overused by a certain rebellious subculture, or perhaps its strong earthy aroma is just not appreciated by modern culture that associates cleanliness with chemical cleaning products.
A truly fine Patchouli oil is a wonderful fragrance that may not be recognized by many who claim that they do not like its scent. It is best appreciated when smelled in diluted form rather than at full strength. A good quality Patchouli oil improves with age, and we have four very fine Patchouli oils to choose from.
Our Dark Patchouli is deep and mellow. It can be diluted, used as is, or mixed with most other oils as a base note and fixative (and to deepen and improve the fragrance!).
---
Aromatherapy Uses: Antifungal, antiseptic, good for acne and cracked skin, reduces nervous tension
---
Click here for more information on Patchouli Oil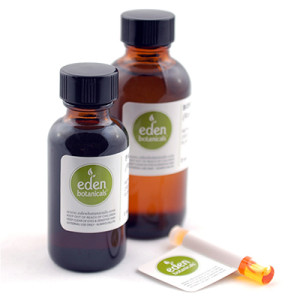 Customer Reviews for Patchouli, Dark
Love Review by

Wunder Budder

I love patchouli. I have more patchouli in my personal collection than I will ever use, from different suppliers and different parts of the world. I love trying new kinds and noticing the slight differences between them. I just really love patchouli. But, this one, this dark patchouli, is my favorite, my go-to, and the one I most use when making blends for others (I smiled when I read the part in prb's review where the woman angrily said she knew what patchouli smelled like!). This is a really smooth patchouli that even non-patchouli-lovers can appreciate, but patchouli-lovers with covet. (Posted on 3/22/13)

NON STOP COMPLIMENTS Review by

prb

I started wearing only Patchouli Dark as my every day fragrance - nothing needs to be added since it is so lovely, mysterious, and deep with no aging on my end!
I get compliments by the basketful - no joke! in fact, at my work place, which is in a large arena type room, people will comment that they knew i was there because they could smell me! people in stores, in restaurants, everywhere seek me out to tell me they love my scent... and patchouli lovers always remark what a lovely patchouli it is! Others just remark on my "perfume". One co-worker wanted to know the name of my perfume so she could buy it and i explained over and over what type and where i bought it and that is was patchouli dark and nothing else...she was furious and told me she KNEW what patchouli smelled like and this was different!
LOVE THIS STUFF! (Posted on 2/24/13)

Delicious Review by

LS

I found this patchouli exceptionally rich musky and delicious. It is so nice it can be used on is own. (Posted on 2/18/13)