Ginger Lily CO2
Details
Botanical Name: Hedychium spicatum
Origin: India
Process: CO2 Select Extract
Plant Part: Rhizome
Cultivation: Cultivated
Use: Natural Perfumery
Note: Middle / Top Note
Aroma: Warm, woody, with slight spicy and sour note
Overview
Ginger Lily CO2 Select Extract
Ginger Lily CO2 is a specialty oil with a fresh and diffusive woody-spicy odor and hints of cinnamon. It is useful for the natural perfumer looking for uncommon aromas for blending.
---
Aromatherapy Uses: Found to help to ease headaches and signs of depression.
---
Blending Suggestions: This extract is soluble in fixed oils only. It is only partially soluble in alcohol or alcohol based perfumes.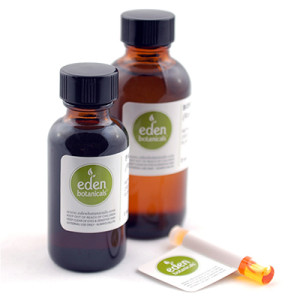 Customer Reviews for Ginger Lily CO2
From the Oils Room Review by

Eden Botanicals

Thank you for your review Florence! And yes, the crystallization of the Ginger Lily CO2 is completely normal. This oil requires gentle heating to completely liquify and incorporate into your blends. We're so glad you like it! (Posted on 9/10/14)

Unusual Review by

Florence

This was not at all what I was expecting. Like the previous reviewer, I was expecting something "rooty". Instead I was hit with a melon top note! I hope I received the right item because I absolutely love that note! The melon sensation quickly fades and then I pick up a sweet floral note. As it dries down the spicy and woody notes begin to come through. I tested on a scent strip and on skin (the melon note lasted a touch longer on the strip). Again, like the previous reviewer, I did start to pick up a powdery note as it dried. It is a beautiful and complex scent. Note: the oil was partially crystallized . . . is that normal for this item? (Posted on 9/8/14)

Delicious! Review by

RitaMeterMaid

This is a wonderful aroma! Since its extracted from the Rhizomes, I was expecting something more rooty and earthy, which it has qualities of, but at first sniff, I picked up the deeper aspects of the plants floral notes rounded out by a rich, sweet, ambery, labdanum-like quality with very smooth, creamy edges - creamy the way ylang can be. The spice is exquisite, very gentle and complex, continuing to unfold and become a bit powdery as it dries down. A wonderful discovery, and a great price as well. (Posted on 5/10/14)