Balsam of Peru Oil
Details
Botanical Name:

Myroxylon pereirae

Origin: El Salvador
Process: Steam Distilled Essential Oil
Plant Part: Resin
Cultivation: Wild Grown
Use: Aromatherapy / Natural Perfumery
Note: Base note and excellent fixative
Aroma: Sweet, rich and vanilla-like
Overview
Balsam of Peru Essential Oil
Balsam of Peru trees thrive mainly along the Balsam Coast where El Salvador meets the Pacific Ocean, and is often planted as a shade tree on coffee plantations. It has a rich, vanilla-like aroma, making it an affordable substitute in natural perfumery when a sweet vanilla note is desired. Our Balsam of Peru oil is a light amber color, easy to pour and completely soluble in fixed carrier oils. It makes a great fixative in natural perfumery.
Therapeutically, Balsam of Peru has been used traditionally for a multitude of skin disorders, rheumatism, respiratory conditions.
---
Aromatherapy Uses: Antiseptic, antifungal, anti-rheumatic, promotes healing, helps stop bleeding.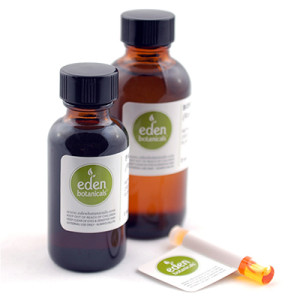 Customer Reviews for Balsam of Peru Oil
A Favorite.... Review by

Michele

One of my most favorite oils from Eden. Very rich and smooth, almost edible quality. I love blending a few drops into my massage oil products (Posted on 2/28/13)

Delectable Base Note Review by

Gorosheeta

This Balsam of Peru Oil has a creamier, sweeter vanilla-like scent. Since ordering and receiving it, it has become my go-to base note when I want to create a foody fragrance with a round finish. It has a light finish that sticks around for hours. (Posted on 2/20/13)