Patchouli CO2
Details
Botanical Name: Pogostemon cablin
Origin: India
Process: CO2 Select Extract
Plant Part: Leaves
Cultivation: Cultivated
Use: Aromatherapy / Natural Perfumery
Note: Base Note
Aroma: Not as earthy as distilled Patchouli, fresh and lively
Overview
Patchouli CO2 Select Extract
The CO2 process yields a very unique Patchouli oil that is fresh and lively. The aroma is not as earthy as distilled Patchouli and is more like the fresh plant material. Patchouli CO2 also has an aroma similar to Patchouli Absolute and can be used as a substitute for Patchouli Absolute. Patchouli CO2 is somewhat rare, and is sometime cloudy. We filter our Patchouli CO2 which removes the cloudiness and sediment and results in a higher quality final extract.
---
Aromatic Profile: Earthy, musky, dry and slightly spicy-warm. Deep and tenacious, very long lasting.  Lighter, fresher and greener in aroma than our other Patchouli oils.
---
Primary Uses: Aromatherapy, natural perfumery, body care, incense and as a single scent.
---
Uses in Natural Perfumery: A tenacious and powerful base note that acts as a fixative and transforms all other notes. Adds an earthy and warm tone and deepens the other notes, particularly florals. Used often in Chypre and Oriental perfumes as well as in dry woody perfumes and in masculine citrus cologne type fragrances, and toiletries. Patchouli improves tremendously with age. To accelerate the aging process, you may choose to leave the lid unscrewed and let it rest in the bottle for several weeks. This practice is recommended only if you want to make your patchouli notes sweeter and warmer.
---
Uses in Aromatherapy: Antidepressant, Anti-Inflammatory, Anti-Microbial, Antiseptic, Hair Care, Skin Care, Controls appetite, assists in skin conditions (such as Dermatitis, Dandruff, Eczema, Impetigo, Fungal Infections, Athlete's Foot, and more).
---
Blending Suggestions: Sandalwood, Myrrh, Vetiver, Spikenard, Rose, Jasmine Grandiflorum, Ylang Ylang, Champaca CO2, Amber, Oakmoss, Labdanum, Geranium, Opoponax, Clary Sage, Lavender, Cedarwood, Cloves, Cinnamon, Cassia, Cocoa Absolute. We also recommend blending the different types of patchoulis we carry to create a unique, complex patchouli accord.
---
Safety Considerations: Non-toxic, non-irritant, non-sensitizing. One of the few essential oils that can be used neat on the skin - but you should patch test first.
---
For more information on Patchouli, click here.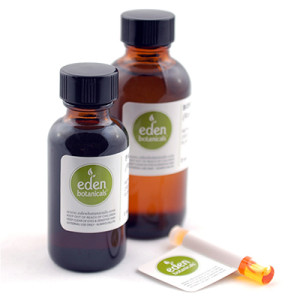 Customer Reviews for Patchouli CO2
This patchouli is hard to describe. To me it is musky and earthy, but in a much lighter way than most patchoulis. It's kind of "white" musk like. It's like it has a higher vibration...if that makes sense. It is very clear, smooth, and pure smelling. Extremely beautiful and unique patchouli that I will wear alone, blend with rose and other botanicals, and even blend with other patchoulis.

I will definitely buy this wonderful patchouli again in a larger size. (Posted on 8/20/14)
This is a wonderful and very unique patchouli. It is sweet and deep without being overly musty and "dark" in scent. I had to write this review because I was surprised and delighted to detect the distinct sweet aroma of black tea leaves in this oil! Truly lovely. That particular note didn't come through in my blend though, so I will continue to work with it to see what it can do. (Posted on 10/31/13)
Having compared this against a 'light' patchouli, as well as Eden's 'double distilled', I find this to be a more approachable one. Less earthy and mysterious, more fruity, sweet, and fresh. Feels less sultry and more flirty if that makes sense. Simultaneously hot and cold. (Posted on 6/27/13)
It's true what Eden says about this, it's the patchouli that even patchouli haters will love. I almost always find patchouli somewhat repellent...but this is creamy, smooth, and beautiful. I use it sparingly but it adds depth and complexity to my perfumes. Thank you! (Posted on 2/19/13)