Patchouli CO2
Details
Botanical Name: Pogostemon cablin
Origin: India
Process: CO2 Select Extract
Plant Part: Leaves
Cultivation: Cultivated
Use: Aromatherapy / Natural Perfumery
Note: Base Note (good fixative)
Aroma: Fresh, lively; lighter, greener, and less earthy than distilled Patchouli.
Contraindications: Dilute prior to use.
Overview
Patchouli CO2 Select Extract
The CO2 process yields a very unique Patchouli oil that is fresh and lively. The aroma is not as earthy as distilled Patchouli and is more like the fresh plant material. Patchouli CO2 also has an aroma similar to Patchouli Absolute and can be used as a substitute for it. Patchouli CO2, a somewhat rare oil, is sometimes cloudy; the CO2 extraction process can release some of the denser aromatic components and waxes from the plant material. In this case, we filter our Patchouli CO2 to remove these sediments in order to provide a higher quality final extract.
Patchouli is a sometimes misunderstood oil that has received an undeserved reputation in recent decades. Perhaps it was overused by a certain rebellious subculture, or perhaps its strong, earthy aroma is just not appreciated by some in our current culture in which cleanliness may be associated with the fragrances of cleaning products.
A truly fine Patchouli oil has a wonderful fragrance that may not be recognized by many who claim that they do not like its scent. It is best appreciated when smelled in diluted form, on a scent strip, or when combined with other essential oils, especially florals, rather than at full strength from the bottle. A good quality Patchouli oil improves with age, and we have five very fine Patchouli oils to choose from.
---
Aromatic Profile: Fresh, lively; lighter, greener, and less earthy than distilled Patchouli.
---
Appearance: Rich amber-colored, somewhat viscous liquid.
---
Use: In natural perfumery, skin and body care, insect repellant, aphrodisiac, promotes grounding/decisive qualities.
---
Blending Suggestions: Add drop by drop to add a full-bodied base note to your blends.
---
Blends Well With: Amber, Bergamot, Cassie, Cedarwood, Champaca CO2, Cinnamon, Clary Sage, Clove, Cocoa Absolute, Geranium, Jasmine Grandiflorum, Labdanum, Lavender, Myrrh, Neroli, Oakmoss, Rose, Sandalwood, Spikenard, Vetiver, Ylang Ylang. We also recommend blending the different types of patchoulis we carry to create a unique, complex patchouli accord.
---
Safety Considerations: Dilute before using. A patch test should be performed before use for those with sensitive skin.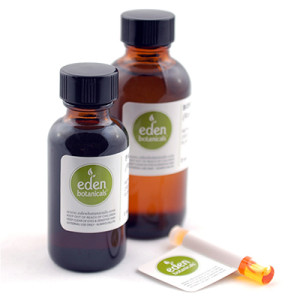 Customer Reviews for Patchouli CO2
This patchouli is hard to describe. To me it is musky and earthy, but in a much lighter way than most patchoulis. It's kind of "white" musk like. It's like it has a higher vibration...if that makes sense. It is very clear, smooth, and pure smelling. Extremely beautiful and unique patchouli that I will wear alone, blend with rose and other botanicals, and even blend with other patchoulis.

I will definitely buy this wonderful patchouli again in a larger size. (Posted on 8/20/14)
This is a wonderful and very unique patchouli. It is sweet and deep without being overly musty and "dark" in scent. I had to write this review because I was surprised and delighted to detect the distinct sweet aroma of black tea leaves in this oil! Truly lovely. That particular note didn't come through in my blend though, so I will continue to work with it to see what it can do. (Posted on 10/31/13)
Having compared this against a 'light' patchouli, as well as Eden's 'double distilled', I find this to be a more approachable one. Less earthy and mysterious, more fruity, sweet, and fresh. Feels less sultry and more flirty if that makes sense. Simultaneously hot and cold. (Posted on 6/27/13)
It's true what Eden says about this, it's the patchouli that even patchouli haters will love. I almost always find patchouli somewhat repellent...but this is creamy, smooth, and beautiful. I use it sparingly but it adds depth and complexity to my perfumes. Thank you! (Posted on 2/19/13)